Medical psychology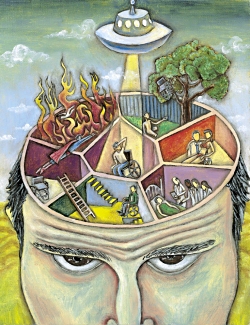 Clinical psychology
is the branch of applied psychology that deals with prevention, diagnosis and treatment of mental disorders and behavioral disorders, or abnormalities in the regulation of human relations with his surroundings. Clinical Psychology special interest in mental health, its norm and pathology, and therefore psychopathology, and diagnosis methods for determining such a standard and pathology, as well as factors influencing the diagnostic process. Clinical Psychology also deals with stress and crisis, which do not fall under the classical understanding of psychopathology. Examines the impact of psychological factors on the occurrence and course of illness (both psychiatric and somatic), and the impact of disease on the psychological status. Also explores the psychosocial conditions of treatment (including pharmacological), and recovery, or issues of quality of contact between doctor and patient.
Finally, is interested in ways to use psychological knowledge to improve the treatment, counseling and assistance to healthy and sick persons in the sphere of behavior and psyche, and especially these specific forms of interaction, such as psychotherapy, crisis intervention, rehabilitation, psychoeducation, etc., which together determine is now known as psychological assistance. In relation to other branches of psychological science, in addition to the areas already mentioned here, clinical psychology is close to psychometrics, health psychology, personality psychology and developmental psychology - both in terms of child development and adult human development and aging. In the realm of applied, practical, clinical psychology is a profession of psychologist in health care.
Dane firmowe
PREMIUM HOUSE KOŁŁATAJA 5C
neurochirurg.opole.pl
Łątka i Partnerzy
- Lekarze Neurochirurdzy sp.p.
Kołłątaja 5C/13, 45-064 Opole
KRS 0000822292, NIP 7543264497
REGON 385244927-00011
BDO 0001/000460247
mBank 81 1140 2004 0000 3302 7968 8364
specjalisci.opole.pl
Glaubic Łątka s.c.
Kołłątaja 5C/11, 45-064 Opole
NIP 7543156690, REGON 368230137
mBank 88 1140 2004 0000 3402 7708 0732
Specjalistyczna Prywatna Praktyka Lekarska
Łątka DM s.c.
Kołłątaja 5C/13, 45-064 Opole
NIP 7542841136, REGON 160054345
mBank 41 1140 2017 0000 4802 0545 1697