Neurorehabilitation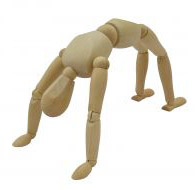 In our practice, we use the following methods of neurorehabilitation:
McKenzie-perfect method of verifying at various pain syndromes of the spine. McKenzie essence of this method is that it offers many patients an independent system to deal with the pain. For some patients, interference, and the mobilization of the therapist is necessary.
Bobath-NDT - therapy, which use different techniques to the task of inhibiting pathological movement patterns and to stimulate a physiological reaction to the rule-muscular tension, ie close to normal. Learning through the use of traffic sensomotorycznym (sensorimotor) experiments performed by:
-skin, which transmit sensations of pain, pressure and temperature
-locomotive which transmit information about a sense of balance
-proprioreceptory joints and muscles.
Teaching sensory means that the patient getting to know your body learns to use it in a targeted way.
NDT theraphy - Bobach works well in patients after stroke and brain trauma, or multiple sclerosis (SM).
PNF-Prorioceptive neuromuscular Facilitation or priming neuromuscular stimulation. It is a concept with its own philosophy and principles of working with patients. The primary objective of therapy is to work on the function which the patient needs - muscular strength, range of motion appropriate. It uses a strong and healthy parts of the body and allows full use of body reserves inherent in the grounds for further action, and most importantly ensure painless to work with the patient.
Kinesio Taping - therapy joint and muscle problems. It is based on kinesiology and capabilities of the organism to self healing. Affects the muscles, fascia, ponds, lymphatic and nervous systems. Kinesiotaping Action is to reduce pain in muscles and joints, removal of lymph edema, muscle work and assisting the correction of incorrect position of the pond. Plaatsmana concept of manual therapy is an eclectic system. This means that it is a combination of methods and concepts of manual therapy, many authors in this field.

Plaatsman's concept differs from other systems because it specializes in the diagnosis and treatment of causes of mechanical problems in the system of mobility, neurological, and neuromuscular.



Poradnik neurorehabilitacyjny dla naszych pacjentów
Dane firmowe
PREMIUM HOUSE KOŁŁATAJA 5C
neurochirurg.opole.pl
Łątka i Partnerzy
- Lekarze Neurochirurdzy sp.p.
Kołłątaja 5C/13, 45-064 Opole
KRS 0000822292, NIP 7543264497
REGON 385244927-00011
BDO 0001/000460247
mBank 81 1140 2004 0000 3302 7968 8364
specjalisci.opole.pl
Glaubic Łątka s.c.
Kołłątaja 5C/11, 45-064 Opole
NIP 7543156690, REGON 368230137
mBank 88 1140 2004 0000 3402 7708 0732
Specjalistyczna Prywatna Praktyka Lekarska
Łątka DM s.c.
Kołłątaja 5C/13, 45-064 Opole
NIP 7542841136, REGON 160054345
mBank 41 1140 2017 0000 4802 0545 1697