Spine surgery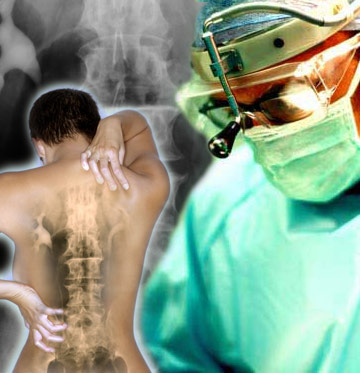 Spine operations are performed at present on the basis of Neurosurgery Department WCM in Opole, which has the possibility of a full range of operative treatments, including also accesses from the front (through neck, chest and abdomen) and modern methods of internal fixation of the spine.
We are one of the pioneers of spinal arthroplasty in Poland (dynamic intervertebral disc prosthesis (the first in Poland to use Accel instrumentation for the Bryan prothesis implantation- 2003. the first in Poland Prestige LP implantation - 2004.) - now we also offer comparable modern systems: the Discover, Prodisc C and Active-C. We also offer Active lumbar disc arthroplasty (Prodisc L - from 2009).
As one of the first in Poland, we used in our patients transforaminal unilateral interbody stabilization (TLIF) using cage-type interbody fusion device Boomerang - 2007 and the first interbody stabilization with the extreme lateral access (XLIF) Oracle - 2010. In the Department of Neurosurgery, Opole we initiated use in spinal surgery currently lwidely accepted dynamic interspinous stabilization - DIAM (now superseded by more advanced technology: COFLEX), and resorbable interbody implants in cervical spondylodesis (Cornerstone HSR, Solis). As the first center for neurosurgery in Poland and one of the firs in Central and Eastern Europe, we used three-dimensional CT image fusion with intraoperative fluoroscopy during navigated transpedicular spine stabilization surgery, and we are also pioneers in the use of magnetic neuronavigation spine surgery.
We are also pioneers in minimally invasive percutaneous spinal surgery methods, such as percutaneous transpedicular stabilization (Sextans), percutaneous interspinous stabilization (Inspace, Aperius), percutaneous mechanical nucleoplasty (Decompressor), and percutaneous vertebroplasty, recently with high-density cement (Confidence) and KyphX balloon kyphoplasty and the first in Poland we have performed stenting of the spine fractures using VBS (vertebral body stent). As one of the few in Poland, we also offer rare stabilization of cervical spine with screws (Summit, Vertex Max and Axon).
Dane firmowe
PREMIUM HOUSE KOŁŁATAJA 5C
neurochirurg.opole.pl
Łątka i Partnerzy
- Lekarze Neurochirurdzy sp.p.
Kołłątaja 5C/13, 45-064 Opole
KRS 0000822292, NIP 7543264497
REGON 385244927-00011
BDO 0001/000460247
mBank 81 1140 2004 0000 3302 7968 8364
specjalisci.opole.pl
Glaubic Łątka s.c.
Kołłątaja 5C/11, 45-064 Opole
NIP 7543156690, REGON 368230137
mBank 88 1140 2004 0000 3402 7708 0732
Specjalistyczna Prywatna Praktyka Lekarska
Łątka DM s.c.
Kołłątaja 5C/13, 45-064 Opole
NIP 7542841136, REGON 160054345
mBank 41 1140 2017 0000 4802 0545 1697