Szkolenia
Kursy i szkolenia zagraniczne
:
EANS Neurosurgical Course I, Klagenfurt, Austria, 1995
EANS Neurosurgical Course II, Aalborg, Dania, 1996.
PET in Eastern and Central Europe International Workshop, Debrecen, Hungary, 1996.
EANS Neurosurgical Course III, Southampton, Anglia, 1997.
EANS Neurosurgical Course IV, Funchal, Madeira, Portugalia, 1998.
"1-st International Workshop on Advanced Microanatomy and Skull Base Surgery". Frankfurt a Main, 17-19.10.2002 Uniwersytet im. Goethego Frankfurt n.Menem (T.Fukushima, V.Seifert).
"Microsurgical Approaches to the Brain, Ventricles and Cranial Base". University of Florida, Gainesville USA, 10.02-14.02 (A.Rhoton).
Practical Anatomy Workshop "Microsurgery of intracranial aneurysms - recent advances", PAWSLAB, St.Louis University, St.Louis, Mo USA 2004.05.01-05 (G.Yasargil, A.Krisht, J.Herniesniemi)
"Surgical approaches to the skull base"- Practical Anatomy Workshop. PAWSLAB, St.Louis University, Saint Louis , Mo , USA , 14-16.2004 (O.Al Mefty)
"Operative techniques with Masters"- Practical Anatomy Workshop. PAWSLAB, St.Louis University, Saint Louis , Mo , USA , 02-05.06.2005 (S.Abdulrauf, A.Briccolo).
"Microsurgery and microsurgical anatomy of the basal cisterns and vessels of the brain" - A Hands-On Cadaver Workshop, Miguel Hernandez University, Alicante, Spain, 6-7,.10.2005 (J.Lloret, B.George).
"Cerebral Revascularization and Hands-On Course on Microanastomosis and EC-IC Bypass Techniques" PAWSLAB, St.Louis University, Saint Louis , Mo , USA , 12-15.01.2006 (S.Abdulrauf).
"Internal spinal fixation techniques course", 10.2007, Medical Education and Research Institute Memphis, Tn, USA.
"Cervical Masterclass", University of Barcelona 8-9.11.2007,
"Currents in Neuroendoscopy", Barrows Neurological Institute,11-12.03.2008, Phoenix, Az, USA (R.Spetzler).
"Course on vertebral kyphoplasty", Paracelsus University Salzburg, Austria 09. 2008.
AOSpine Advanced Course: "Controversies in Degenerative Care". Davos, Switzerland, 12.2008.
Spinal Microsurgery 11, "Posterior Approaches to the Lumbar Spine" - Institute of Anatomy, and the Orthopedic Clinic Munich-Harlaching (J.Meier) 18-20.03.2008.
AOSpine Advanced Course and Cadaver Workshop, Kuala Lumpur, Malezja, 10.2009.
"MIS of the lumbar spine Course" (Leids Universitair Medisch Centrum, Leiden, Holandia, 02.2010.
"MIS and tubular retractors course", University of Barcelona, 03.2010.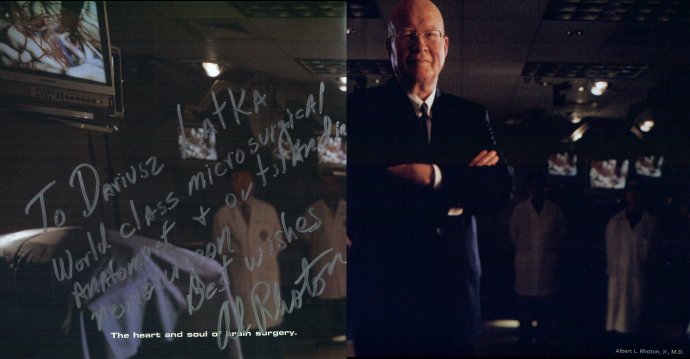 "

To Dariusz Latka - World class microsurgical anatomist and outstanding neurosurgeon

" Albert Rhoton.

Dane firmowe
PREMIUM HOUSE KOŁŁATAJA 5C
specjalisci.opole.pl
Glaubic Łątka s.c.
Kołłątaja 5C/11, 45-064 Opole
NIP 7543156690, REGON 368230137
mBank 88 1140 2004 0000 3402 7708 0732
neurochirurg.opole.pl
Specj. Pryw. Prakt. Lek. Łątka DM s.c.
Kołłątaja 5C/13, 45-064 Opole
NIP 7542841136, REGON 160054345
mBank 41 1140 2017 0000 4802 0545 1697